BIG EAST TOURNAMENT
MARCH 3-6
STORRS, CONNECTICUT
http://www.bigeast.org/sports/wbball/champs/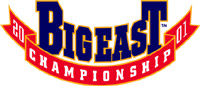 Everything you need to know about Rutgers in the BIG EAST tournament:
Rutgers falls again to UConn--
post-game comments--
box score
Rutgers failed UConn exam
Stringer calls UConn finest I've seen
Stringer responds to harsh media criticism
The original Elsberry article
To Top It Off, A Leaky Roof
Avalanche!
It's Over Early
Rutgers springs leak in blowout
A snow job gives a man day in sun
Rutgers women buried by UConn, 94-66
Snow, Ice and Leaks at Women's Semifinals
UConn Floors Rutgers
Rutgers gets by Providence and into semis
Rutgers women beat Providence in first round of Big East tourney
Providence Gives Rutgers A Fight
Look What March Brings
Blizzard or not, Rutgers prefers a full UConn house
Officials fret over weather
Rutgers women struggle in tuneup for Connecticut
Rutgers fends off Boston College
Rutgers to ask more of Horton in tourney
For The Time Being, All Systems Go
Miles' desire is the title
Big East's big-time stars
Irish know what's in Storrs
Phoenix/WBCA High School All-America Game
No. 2 seed Huskies still top dog in Big East
Pointer, Sutton-Brown to Play in WBCA All-Star Game
Kristen's No. 1 for now
Three Huskies lead 17-player roster
Rutgers' Sutton-Brown, Pointer named all-stars
Rutgers awaits winner of Providence-Seton Hall
ESPN.com Looking out for No. 1
ESPN.com Sizing up the top 16 seeds
Taking the next step: Big East producing potential WNBA stars
BIG EAST WOMEN'S NOTEBOOK

Click here to go back home!