#12 Mandakova Clark
Mandakova Clark has been dismissed from the team.
Prior to Rutgers

Nike All American

Chosen as one of 40 players elected to try out for the Junior Olympic Team in the summer of 2000

Fifth team all american by the All Star Girls Report

Honorable Mention All American by USA Today

Ranked 40th best player by the Blue Star Report

Ranked 18th by Basketball News

As a senior, averaged 25 ppg and 8 apg.

All metro three years

All Baltimore County, All City and All Division all four years of her career.

Also competed on her high school volleyball, softball, and track teams.

Born October 20, 1982, she is the daughter of Pamela Wright.

She is intrested in a career involving computer engineering.
Interview with Mandakova Clark:
| | |
| --- | --- |
| If you could have an ESPN SportsCenter Highlight what would it be? | Crossing over an opponet |
| The best sporting event you ever attended? | Rutgers vs. Connecticut at the RAC |
| One person from history who you want to spend a day with? | Harriette Tubman |
| If you could guest star in one television show,what would it be? | Martin |
| Three people you would invite to dinner? | My grandma, Teresa Weatherspoon, and Michael Jordan |
| What would you name your autobiography? | To Live Like Me |
| What possession can't you live without? | My basketball |
| Why do you wear the number that you wear? | My father wore that number |
| Your craziest ambition? | To become the richest female in the world |
| If you were Stringer for a day, what would you do? | Go shopping |
Mandakova Clark Links
Clark is third Rutgers player to be suspended
Women's Basketball Gets Second Big Recruit
Rutgers Women:Recruit Struts Her Stuff
Baltimore All-Met Team
Mandy Clark to attend USA Jr. Team Trials June 9-12
Mandakova Clark Athlete of the Week Video!!!!!!!!!!




Mandakova Clark Pictures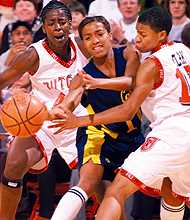 All Metro Team Mandy Clark #12 Next to Woman in Blue Suit.


Click on the basketball to go back to the roster


Click on the basketball to go back home.