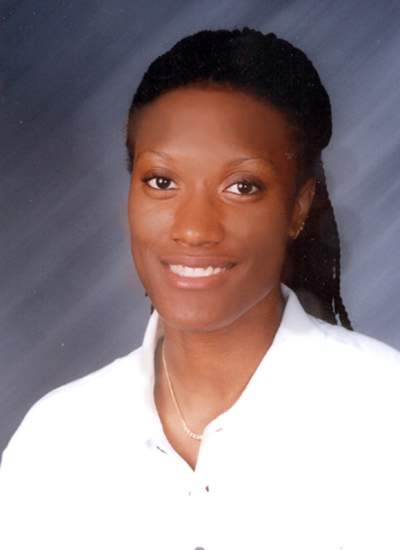 # 44 Davalyn Cunningham
As a Junior:


Small for a power forward

Makes up in strength and determination what she lacks in height

Will not get knocked out of position under the basket

Teams that double down on her quickly learn that she can't be left alone within 15 feet of the basket

Has a soft shooting touch and an accurate mid-range jumper
As a sophomore


Powerful forward who could drive to the basket or hit the short jumper

Named to the Coca-Cola Classic All-Tournament team for the second straight season

Started 16 games, including the first 10 of the season, only player to do so

Shot 50 percent or better 12 times this season

Perfect from the line in six games

Neutralized 6-6 Wisconsin center Nina Smith and held the much bigger player to 11 points to enable Rutgers to earn a 63-61 victory

Cunningham had to guard Smith for the whole game because Tammy Sutton-Brown did not play due to injury

Contributed 13 points and six rebounds in C. Vivian Stringer's 600th win over Texas

Shot 75 percent (3-4) from the field and 2-2 from the line at West Virginia (1/22), including two free throws to put Rutgers ahead en route to a 55-49 victory

Scored 14 points on 6-12 from the field and 2-2 from the line vs. No. 5 Notre Dame

Recorded her first career double-double with 15 points and 10 rebounds vs. No. 17 Boston College (2/23).
Freshman Honors

Played a season-high 27 minutes against then No. 1 ranked Tennessee at Madison Square Garden.

Grabbed eight rebounds and scored four points in the game

Played in all four games of her first NCAA Tournament

Coca-Cola Classic All Tournament Team
Prior to Rutgers St. John's College

USA Today Player of the Year in Washington D.C.

Gatorade Player of the Year in Washington D.C.

Named the 80th best player by the Blue Star Report

Street & Smith Magazine honorable mention all-American

Nike All-American

High school team earned a ranking of # 21 in the USA Today high school poll

Earned the Pigskin Award for Outstanding honorable Athlete and named all-Metropolitan as a senior

Led high school team to the 1997-98 conference and city championships with a 33-1 overall record and 26-0 in the conference

Team ranked No. 1 in the D.C. metro area.

Did not play as a junior due to a stress fracture in her right shin.

Named MVP of the Jelloff Summer League in 1997

Named MVP at the 1997 New Orleans Shake-N-Bake Christmas Tournament

1997 Bullis Tournament MVP

1998 U.S. Army Reserve Scholar Athlete.

Also played softball in high school

Excelled in track and field and won the 1997 WCAC shot put

Member of the National Honor Society and Spanish Honor Society as a junior and senior

Named to the honor roll all four years

Davalyn, born January 27, 1980, is the daughter of Ronald and Searcy Cunningham. She also has a brother, Dante.

She is interested in the field of sports psychology.

With a last name like Cunningham, Usha Gilmore nicknamed her Opie.

Her parents are both in the military and work at Andrews Air Force Base, but contrary to popular rumor they don't work on Air Force One.

She considered going to the Air Force Academy after high school.

Davalyn's Favorites

| | |
| --- | --- |
| Food | Ice Cream |
| Movie | Titanic |
| Animal | Monkey |
| Book | Waiting To Exhale |
| Songs | Drama and Greatest Love of All |
| Actor | Samuel L. Jackson |
| Actress | Queen Latifah |
| WNBA Teams | New York Liberty and Washington Mystics |
| WNBA Player | Kym Hampton |
| NBA Team | San Antonio |
| NBA player | Tim Duncan |
| Sport other than basketball | Softball |
| Subject in school | Africana studies |
| Davalyn Cunningham Interview | |
| If you could have an ESPN SportsCenter Highlight... | my processin of cartwheels when we win a National Championship. |
| If you could be on the cover of an magazine next month... | Slam Magazine |
| Three people you would invite to dinner... | Mom, Dad, Dante (brother) |
| If you could sing one song beautifully and perfectly... | The Greatest Love of All |
| What would the title of your autobiography be? | Redwood |
| The movie/ actor/actress you would most like to co-star with... and the movie would be... | Omar Epps... More Love and More Basketball |
| One person from histroy you would like to spend a dy with... | Wilma Rudolph |
| If you were on "Who Wants to be a Millionaire" who would be your phone a friend? | Shayna Hammond, my best friend |
| Your favorite Stringer expression... | " I resent that" |
| If you were Stringer for one day, you would... | give the team a day off |
| Favorite website... | ask.com |
| Why do you wear the jersey number you wear? | Because and old boyfriend had hte same number while I was in high school. |
| Most memorable road trip? Why? | The trip to Europe. We totally bonded as a team. |
| Your craziest ambition... | To become a model |
| How will you help women's basketball grow in the 21st century? | By dedicating myself completely to the game and giving everything that I have at all times. |
Davalyn Cunningham Links

Davalyn Cunningham Pictures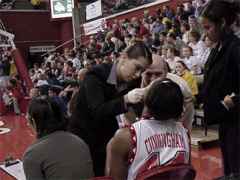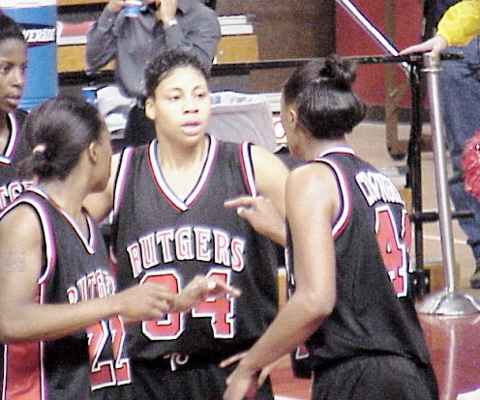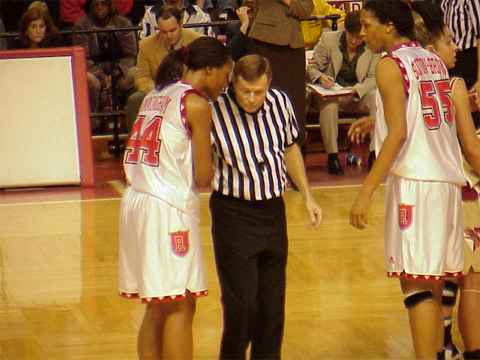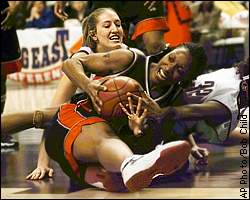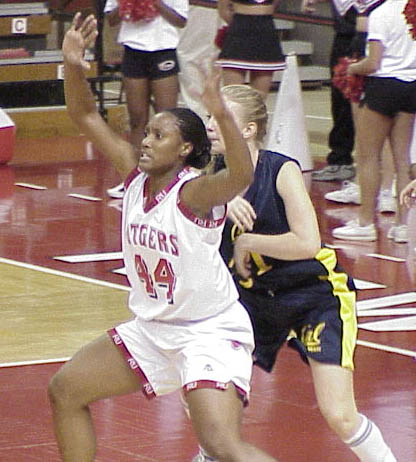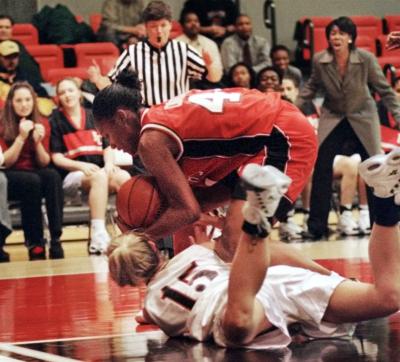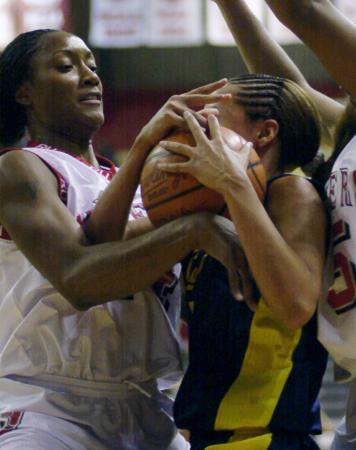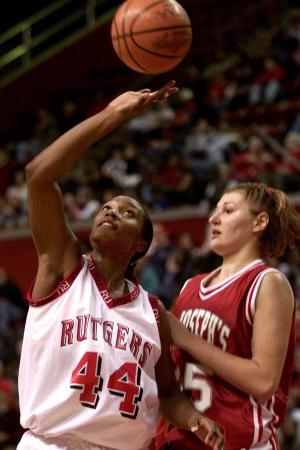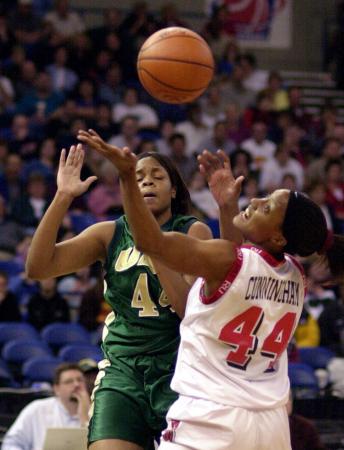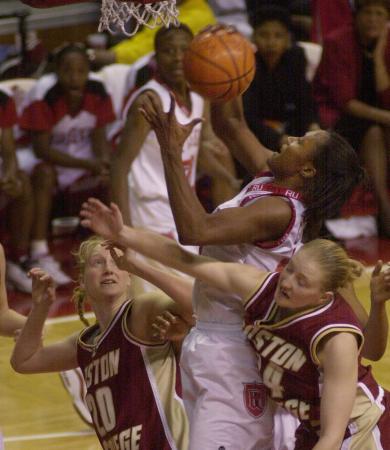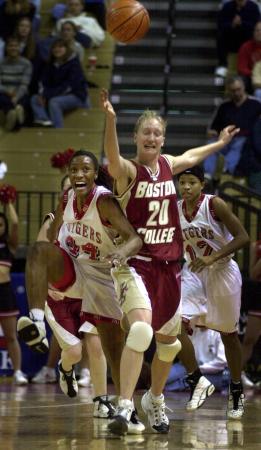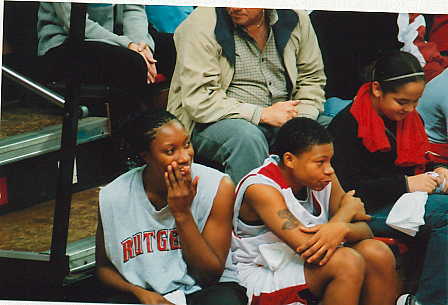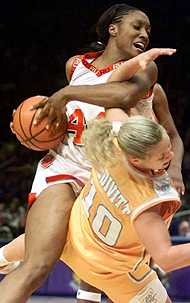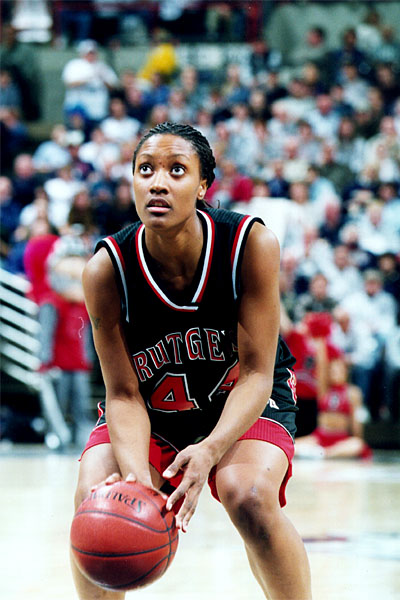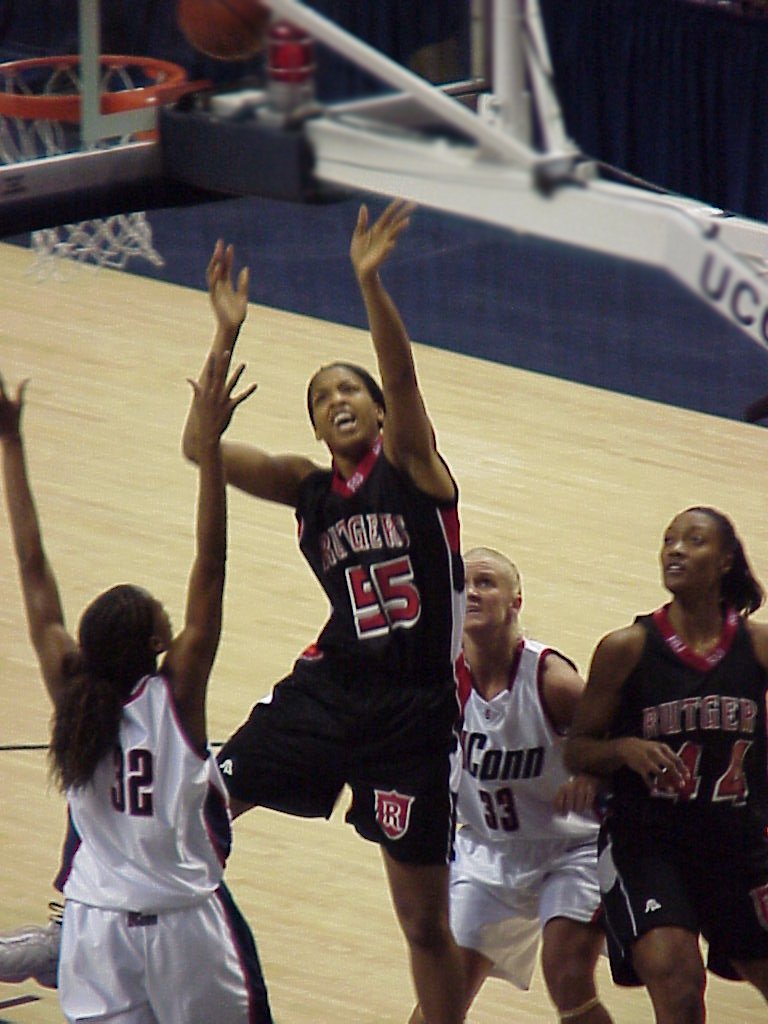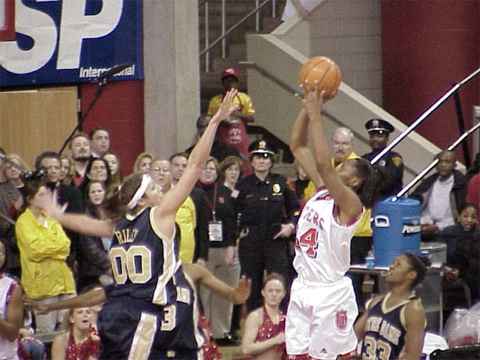 Click on this basketball to go back to the roster.