# 15 Mauri Horton
As a sophomore
A gifted played with potential to have a record setting career at Rutgers. Has worked dilligently in offseason to improve her conditioning. She is a very energenic played who is a lot of fun to watch.
As a Freshman

Played in 21 games and started five in the beginning of the season.

Was part of Coach Stringer's intensity team.

Earned her first start on 11/26 versus Northeastern.

Saw action in two NCAA tournament games vs Holy Cross and St. Joseph's

Played one minute in the BIG EAST championship games versus Connecicut

Played 27 minutes in the games vs Pittsburg

Prior to Rutgers

Named USA Today player of the year in Minnesota.

Averaged 23.1 points, 5 assists, 5 rebounds, and 4 steals

A second team Parade All American

Played in the WBCA All-Star games with Kourtney Walton

Street and Smith honorable mention All American in both junior and senior years

Metro Player of the Year

Minnesota's Miss Basketball

Named All State three times

Three time all city selection

As a junior averaged 18.6 ppg and 7 assists per game

Minneapolis Star Tribune all Metro Second Team Selection as a junior

Played for the US as a member of the under 17 team that competed in the World Youth Games in Moscow during the summer of 1998

Rated the 35th best player in the Nation according to the All-Star Girls Report

Mauri Horton, born February 11, 1981, and the daughter of Carloyn Reynolds, is intrested in majoring in communications.
Interview with Mauri Horton
| | |
| --- | --- |
| If you could have and ESPN SportsCenter highlight, what would it be? | After winning the National Championship, they would show me doing the funky chicken |
| If you could be on the cover of any magazine next month what would it be? | Slam Magazine |
| Three people you would invite to dinner? | Kevin Garnett, Martin Luther King jr, and my mother |
| If you could sing on song beautifully and perfectly, what would it be? | We Are the World |
| If you could guest star in one television show what would it be? | Moesha |
| One person from history you would like to spend a day with would be? | Tiger Woods |
| Your favorite Stringer expression? | When she points at you |
| If you were Stringer for a day what would you do? | Go shopping |
| Toughest player you ever faced? | Jolette Law |
| Your craziest ambition? | To win a gold medal in the 100m dash at the Olympics |
| What possesion can't you live without? | Soap and Water |
| How will you help women's basketball grow? | I will become the player that makes people smile while I am playing because I am so exciting and free with my play. |
Mauri Horton Pictures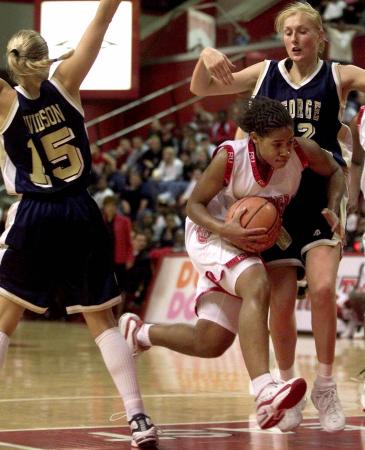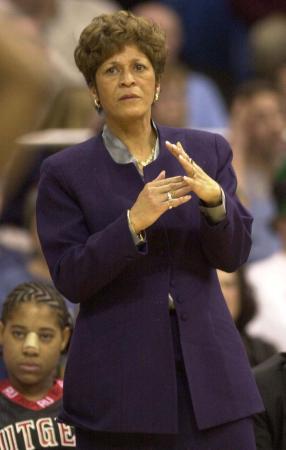 Mauri Horton in the background.

Click on the basketball to go back to the roster.


Click on the basketball to go back home.