#55 Tammy Sutton-Brown
As a senior

Nicknamed "Simba" from the Disney movie "The Lion King" due to her coming of age at Rutgers

Will be extremely confident in her abilities after representing Canada in the 2000 Sydney Olympics

An imposing player inside on both ends of the court

Has very good offensive skills

Works extremely hard every game

Has exceptional hands in the low post

Converted on 67.3 percent of her shots in 1998-99

Owns a career field goal percentage of 57.6 which ranks third in the Rutgers career records.

As a junior

Named the team's Most Improved Player, along with teammate Davalyn Cunningham

Named to the BIG EAST All-Tournament team after scoring 39 points and hauling in 17 rebounds in three games

Led the team in field goal percent (.517)

Led the team in blocks (26)

Team's third-leading scorer (9.3)

Third leadingrebounder (5.1)

Shot 50 percent or better in 19 games

Scored in double figures 13 times, including seven in a row at the end of the season

Led the team in scoring five times

Led the team in robounding eight times.

Needs just 126 points to reach the 1,000 point plateau

Has scored 874 career points

Had seven rebounds, five points, and two steals in the NCAA National Semifinal game vs. Tennessee (3/31)

Scored 14 points and grabbed six rebounds in 28 minutes in the West Region championship game vs. Georgia (3/27)

Led the team with eight rebounds while adding three points in the West Region semifinal game vs. UAB (3/25)

Against St. Joseph's, limited the leading scorer to just seven points in the second round of the NCAA Tournament (3/19)

Scored 18 points and grabbed eight rebounds vs. Ruth Riley and the No. 5 Notre Dame Irish in the BIG EAST semifinal game (3/6)

Started first game of the season vs. NC State

Sat out two games due to a sprained ankle (Northeastern 11/26 and Wisconsin 11/27)

Was slow to recover, spending the next seven games averaging just 13 minutes per game

Returned to the starting lineup vs. Miami (1/5) and had eight points and seven rebounds

Recorded her first double-double of the season (third of her career) at Georgetown (1/12) with 11 points and 11 rebounds

Turned in a season-high 22 points on 11-15 (.733) from the field at Syracuse (2/15)

Played the first 40 minute game of her career at Villanova and scored 12 points while grabbing seven rebounds.

As a Sophomore

A potent offensive weapon in the paint

Had excellent post skilles

Named third team all-BIG EAST

Played on the Canadian National team

Named BIG EAST Player of the Week twice during the season (12/4 and 2/8)

Became the Knight's starting center after Jen Clemente was sidelined after the fifth game of the season

Named the Knights' Most Improved Player

Played just 21.3 minutes per game but was the third-leading scorer on the team (10.1)

Second-leading rebounder (5.9)

Ranked second in the BIG EAST in field goal percent (.673); 7th in blocked shots (1.1) and 15th in rebounds (5.9)

Set a school single-season record for field goal percentage

Recorded four double-doubles and scored in double figures in 19 games

Was perfect from the field in eight games, including back-to-back games three times

Recorded a season-high 20 points at Syracuse on 8-9 from the field and 4-7 from the line; also had seven rebounds

Shot 70 percent from the field or better 16 times

Grabbed a career-high 17 rebounds at Georgetown and scored 15 points in a double overtime victory

Scored 13 points and grabbed eight rebounds against Notre Dame in a loss in the BIG EAST Tournament. In the NCAA Tournament, led the team in scoring and rebounding vs. Dartmouth (18 pts., 11 reb.)

Led the team in rebounding with nine rebounds vs. Arizona

Shot .750 (3-4) vs. eventual national champion Purdue in the Midwest Regional Final.

As a Freshman

Selected as the team's Most Improved Player along with Linda Miles

Played with the Canadian National Team over the summer

Ranked fourth in the BIG EAST in blocked shots (1.41)

Ranked ninth in the BIG EAST in offensive rebounds (2.5)

Owned the team's best field goal percentage (.541)

Led the team with 45 blocks

Was the team's third-leading rebounder

Played in all 32 games and started two

Averaged 21 minutes per game in the last 18 games of the season after averaging 13.4 minutes in the first 14 games of the season

Averaged 8.8 points and 6.1 rebounds in the last 18 games of the season

Scored double figures in six games

Led the team in rebounding six times and in scoring twice

Biggest block of the season was against Boston College with six seconds remaining to play which set up Shawnetta Stewart's 50-foot buzzer beater to win the game

Was instrumental in upsetting No. 2 Connecticut, scoring nine points in the last seven minutes

Recorded her first collegiate double-double at Seton Hall with 25 points and 12 rebounds,was 12-14 from the floor in that game.
Prior to Rutgers:

A member of the Canadian Junior National team

Considered the top female high school player in Canada, according to the Toronto Star

A four-time Toronto Star high school all-star

Led Markham District High School team to provincial silver medals in 1992 and '93

Led her team in scoring, rebounding and blocked shots with 20 points, 15 rebounds, five assists and 15 blocks per game as a senior

As a senior her team finished with a 23-8 record

Markham District team won the York Region Championship all four years of her career

Averaged 26 points, 15 rebounds, nine blocked shots and four steals per game as a junior

Honored with the Harry Jerome Award for Athlete of the Year

Was asked to throw out ceremonial first pitch at Toronto Blue Jays' game against the Kansas City Royals

Won the Town of Markham Award for community and athletic achievement

Also played team handball and was an all-star and MVP two years

Tamara Kim Sutton-Brown, born January 27, 1978,daughter of Jean and Monroe Sutton-Brown is majoring in Women's Studies.
Tammy Interview
| | |
| --- | --- |
| If Icould have an ESPN highlight it would be | Blocking a shot versus the opposing center |
| If I could be on the cover of any magazine next month, it would be | Essence |
| If I could sing one song beautifully and perfectly, it would be | All My Life |
| The title of my autobiography would be | Hear Me Roar |
| The movie actor/actress I would most like to co-star with | Omar Epps in Love and Basketball |
| The best sporting event I ever attended was | the Sydney Olympics |
| One person from history I would like to spend a day with | Willma Rouldoph |
| If you were on "Who Wants to be a Millionaire" who would be your phone a friend? | My mom |
| If I were Stringer for one day, I would | go shopping |
| Why do you wear the jersey number you wear? | I wore it in high school |
| Most memorable road trip? Why? | The Final Four because we dreamed of it all year |
| My craziest ambition | to be a singer |
| What possession can you not live without? | My teddy bear,"wrinkles" |
| Your favorite book? | Waiting to Exhale |
20 Questions Tammy Sutton-Brown from ESPN.com
| | |
| --- | --- |
| If you could be a Cartoon Character or Superhero, who would you be? | Wonder Woman, I would like to wear her outfit on an everyday basis |
| What was your parents' favortie saying? | "Tamara Kim Sutton-Brown"--and that's when I knew I was in trouble. |
| Who's the best player you have ever faced? | M.J. on NBA Play Station |
| Who's the one player, man or woman, you'd want to take one-on-one? | Vince Carter--no reason other than his looks. |
| What's your favorite moveie? | The Lion King |
| What's your favorite TV show? | Prince of Bel-Air |
| What's the latest CD you bought? | Carl Thomas. |
| How did you start playing basketball? | I didn't. It came to me in the seventh grade. |
| Why do you wear your number? | No particular reason, No. 55 is the same number I wore in high school. |
| What's your favorite pre-game meal? | Pasta with Alfredo sauce, grilled chicken and salad. |
| What's your favorite junk food? | Chips (ketchup/all dressed). |
| If you could invite any three people (dead or alive) to dinner, who would they be? | Maya Angelou, Martin Luther King Jr. and Mr. Walt Disney. |
| If you were stuck on a deserted island, what's the only thing you'd take with you? | A man. |
| What is the one thing you can't get through the day without? | Simba and Wrinkles, my stuffed animals. |
| If a movie was made about you, which actress would you like to see cast to play you? | Angela Bassett. |
| If you weren't a basketball player, what would you be? | A singer. |
| What's something we don't know about you? | I love to sing. |
| If you changed your name, what would you change it to? | Simbolika Sutton-Brown |
| When you think of St. Louis, what do you think of (other than the Final Four)? | The Rams. |
| What does ESPN stand for? | Experienced Sutton-Brown Plays for National Championship. |
Tammy Sutton-Brown Links

Sutton-Brown Needs to Be a Lion

Sutton-Brown Paces Rutgers

Tall Women.org Lists Tammy Sutton-Brown

RU's Sutton-Brown Stands Tall in Victory
Tammy Sutton-Brown Pictures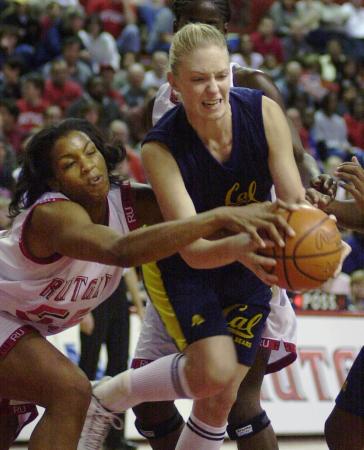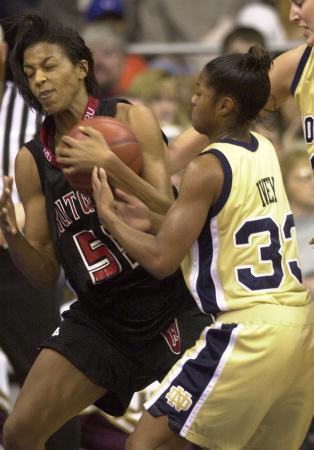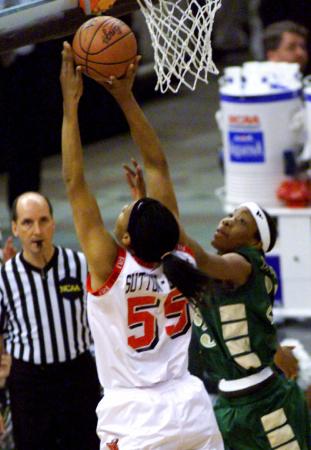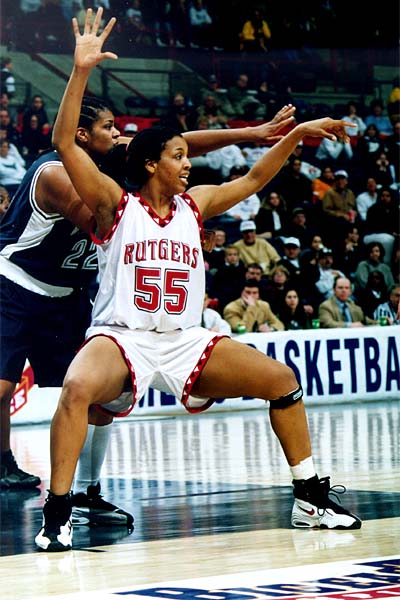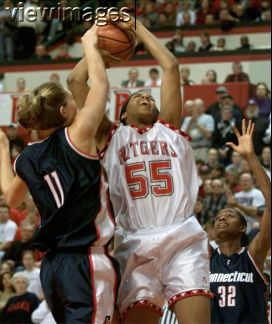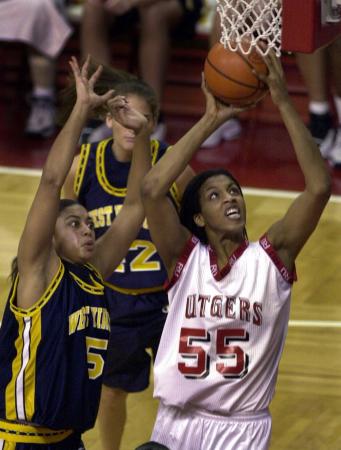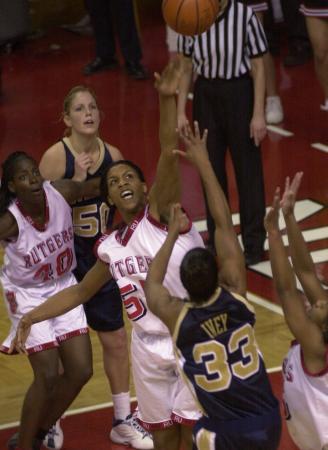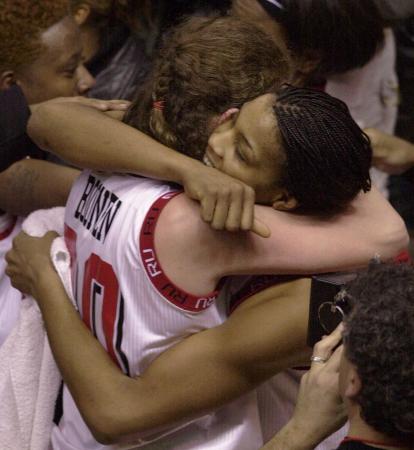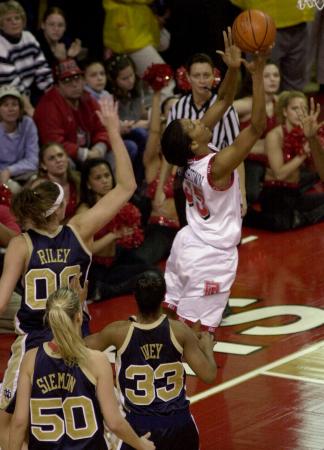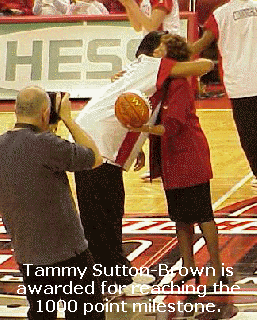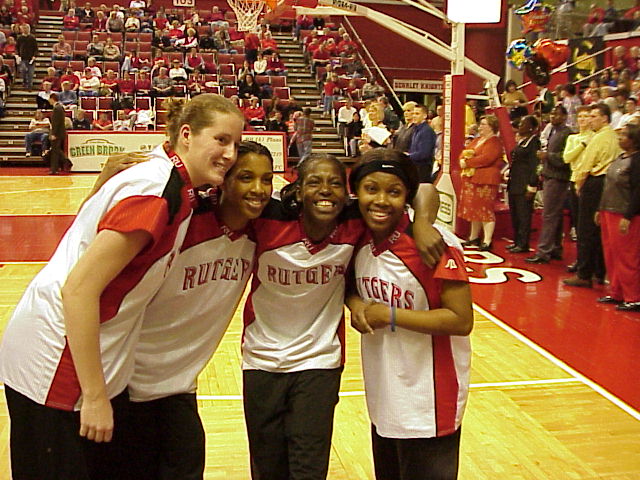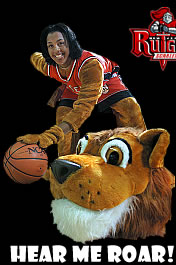 Click on the basketball to go back to the roster.

Click on the basketball to go back home.